Genesis
It started with a belt.
In late 2009, my wife was nagging me to get a new leather belt to replace the one that I'd had for many years. The thing was, I loved that belt. It was proper leather, with a really nice solid brass buckle. True, it was well worn, but I liked that look, and the knowledge that it had been with me for many years, and would most likely serve me for many more years.
I thought to myself "I can do that", so I bought a buckle, a leather strap, and a few tools and made myself a belt. I still have that belt, and still use it, but have to confess that when I look at it, I can see how far I've progressed since that first attempt.
Philosophy
My aim is to make items that are unique, which use, as far as possible, traditionally made materials and components, are of high quality, and that are completely hand made. In some ways, I don't want you to come back to me to buy another of the same, because I hope that what I have made for you will last you for many years to come.
Bridle Leather
All of my belts use traditionally tanned English bridle leather, supplied by J & FJ Baker of Colyton, Devon. Bakers operate the last remaining traditional tannery in England, on a site that has been a tannery since Roman times. The finest quality Devonshire cow hides are prepared using English oak bark, in a process that takes over a year to produce the leather. They are thick, strong, and packed with oils and waxes, to produce a beautiful leather.
This leather is a joy to work with. The tanning process retains much of the character of the original skin. Unlike mass produced leather belts with a bland, uniform surface, the natural marks and scars the cow had in life are visible, and make each belt completely unique. I get to know every square inch of the belt, in the several hours that it takes to make.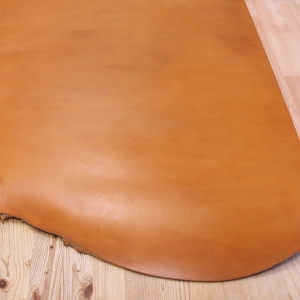 Brass Buckles
To complement the bridle leather, I use solid brass buckles made at England's last remaining brass buckle foundry. The buckles are hand cast using patterns that date from 1832. These buckles are designed for saddlery use, and combine both elegance and strength.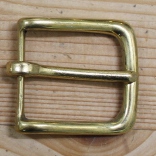 Harris Tweed
Although the primary material in my work is pure leather, I am increasingly incorporating Harris Tweed into my products. This high quality cloth, woven in the homes of the islanders, is an elegant complement to the natural beauty of the leather.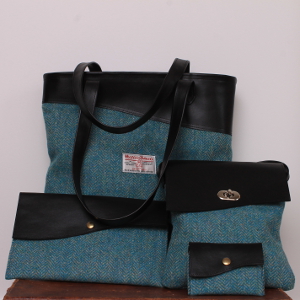 ---