Bridle Leather Belts
Using what is one of the best English bridle leathers, in combination with high quality hand cast English brass buckles, our bridle leather belts are a thing of beauty, and will give many years of service. Baker's produce a bridle leather that retains much of the character of the original hide, so marks and shading from the cow's skin are still evident, making every belt completely unique. Using techniques that have been handed down by craftsmen over many centuries, they are completely hand made.
The strap is cut from a bridle butt, the point of the belt is then cut using a saddler's round knife, and a decorative 'crease' is applied along the edge of the belt. The next stage is to bevel the edges, using an edge shave, which gives a nice rounded edge. The edges may then be dyed to match the primary colour of the leather, and are then burnished by applying a vegetable based gum and rubbing to polish and harden the edge. A final sealing coat is then applied. This leads on to the final stage, where the strap is cut to length to suit the wearer's waist, a slot for the buckle tongue is punched using a crew punch, the stitch holes are marked and pierced with a diamond awl, before the buckle is saddle stitched on using waxed linen thread. The last thing is to punch the holes for the buckle, using an oval punch, and the belt is given a final polish.
Bags, Purses and Key Cases
Named "Samosa Purses" by my wife (and sometimes known as puzzle purses), the ingenious design is like a piece of origami, turning a flat piece of leather into the triangular shape, fastened with a popper on either side of the purse.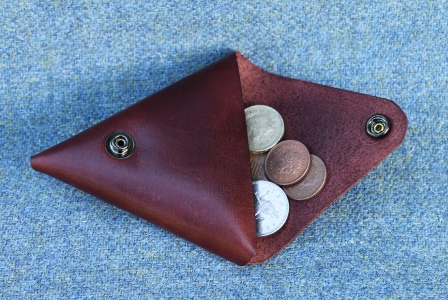 I had one of these key cases many years ago and hadn't seen one for ages when, at a craft fair, within the space of about 30 minutes, two people independently came up to me asking if I made them. So then I started doing so!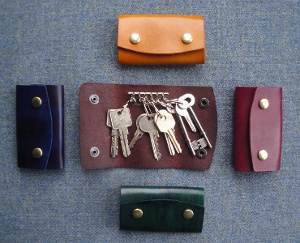 Notebooks
These notebooks are made from a heavy, waxy leather, which gives them a lovely weight and solidity, and complements the 100% recycled cotton paper insert, to give a classic look and feel.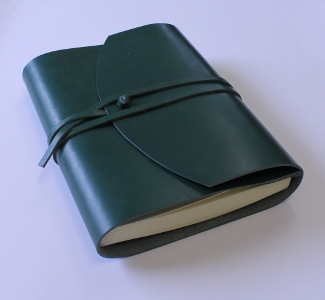 Other Items
Other items are available, and I have a long list of new products to make, once I get around to doing so. If you think there is something you think I ought to start making, please do let me know!
---